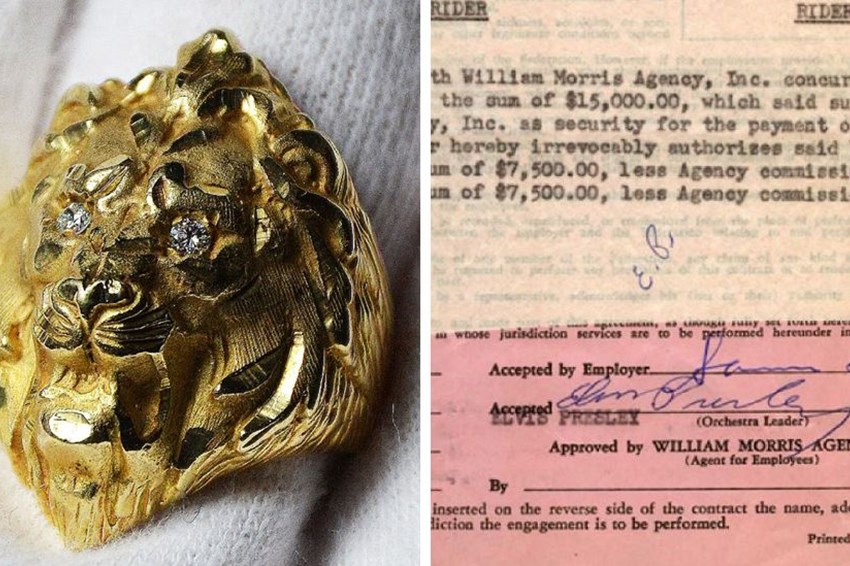 Elvis Presley's gold lion-head ring, with diamonds for eyes, has been sold at auction for £33,500.
It was worn by the singer at his home in Graceland in 1972, and was damaged when somebody accidentally trod on it.
Presley's first Las Vegas contract, from 1956, was sold for £28,000.
They were part of an auction of memorabilia at Henry Aldridge and Son in Devizes, Wiltshire. Both were bought by US collectors.
Andrew Aldridge from the auctioneers said the two items were "fantastic pieces of iconic showbiz memorabilia".
"The prices achieved reflect the importance of their history with regard to the king of rock and roll."
Presley, nicknamed the "King of Rock and Roll" was said to have been attracted to the lion, as it is "the king of the beasts".
A certificate of authenticity, signed by his friend Jimmy Velvet, explained how the 14-carat gold ring was damaged.
It reads: "One night at Graceland, Elvis dropped the ring on the floor and one of his Memphis Mafia members accidentally stepped on it and smashed it.
"The ring was never repaired."
The William Morris Agency contract was for a two-week engagement at the New Frontier Hotel, Las Vegas, in 1956.
It was signed by Presley, who initialled "EP" on the rider for the stage show.
The contract shows he was paid $7,500 per week.
The items were sold by a UK-based American collector.