An "extremely rare" letter signed by all four members of the Beatles has been sold for £13,000 at auction.
The typed letter was sent in September 1965 to Atlanta-based DJ Paul Drew to thank him for his help on the Fab Four's tour of the US.
Signed by John Lennon, Paul McCartney, George Harrison and Ringo Starr, it was auctioned along with a letter from Beatles' press officer Tony Barrow.
They were typed on manager Brian Epstein's NEMS Enterprises notepaper.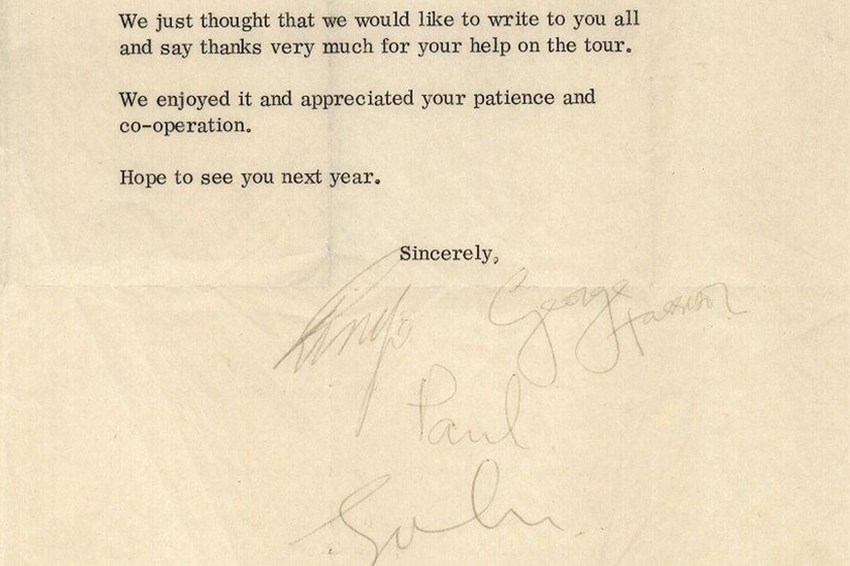 The letter reads: "Dear Paul, we just thought that we would like to write to you all and say thanks very much for your help on the tour. We enjoyed it and appreciated your patience and co-operation. Hope to see you next year."
Auctioneer Andrew Aldridge said it was an "extremely rare" piece of rock and roll history.
"Anything signed by all four Beatles is highly collectable, but to have it on NEMS stationery and addressed to Paul Drew - one of architects of Top 40 radio - takes it to another level," he said.
The accompanying letter from Mr Barrow confirms details for the group's 1965 tour.
The auction house said the lot was sold to an English collector.